To address the unbelievers, critics and sceptics on the subject of GTV/Spider production start. The Alfa Romeo Spider, tipo 916, was produced not from 1995 but from 1993. Right at the end of production of the Ultima Serie of an original 105/115-series spiders. As we know the project was almost ready around the turn of '80s and '90s, but was shelved for some reasons and the restyled, for the third and last time, Spider IV was put into production.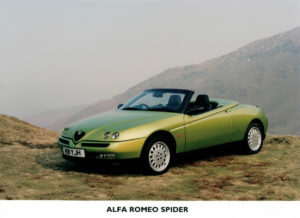 Presented below are three types of documents. Old and new ePer versions and correspondence between me and Centro Documentazione Alfa Romeo. VINs of the first four Spiders of 916 series are for now hidden. The last document is particularly interesting as it shows that at least one of those cars was sold to an Italian customer. Just to adress the incoming pre-production scepticism. What manufacturers usually state is in fact not production start but the sales start, the same way as model years go even further into the future.
26/11/1993 is the date when two Spiders, model code 163 (same for both Spider and GTV), with V6 Busso engines were created. Wheather it represents the start of the example or the finish of it is irrelevant. Worth note is the engine numbering from 02 to 05, so those were the first Alfa Romeos with this AR16101 3.0 V6 12V engines. And all four of them were of course in Lusso trim. No interior nor exterior colour codes are known. Please note that earlier Spiders did not sport the V6 engine.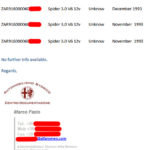 The production of whole 916 series started with four Spiders of 163.623.0.0 – SPIDER 3.0 V6 12V LUSSO type from November 1993. The first GTV was produced later, from 1994.