Alfa Romeo GTV Conrero Challenge. Around 5 or 6 built. Mainly for Japanese market. 280 PS engine upgrade. Based on MY'97 GTV 3.0 V6 24V.
001 The Automechanika Frankfurt show car.
Giallo Conrero. Started out with grey Alcantara interior and grey leather for the brchure photoshoot. Later had painted mirrors and redone upholstery in blue/yellow leather.
002 for sale at enthuno-mori.com
Giallo Conrero wih grey Alcantara interior?
003 for sale at tomscarconnections.com
Grigio Titanio with Tan Leather interior.
005
Grigio Chiaro with Red Leather interior.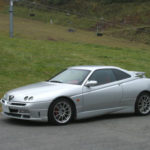 Azzurro Nuvola
grey with tan interior and sunroof (bodykit only?)
Conrero GTV Challenge Leaflet
Conrero GTV Challenge Catalogue
Conrero GTV Challenge in 'Auto Oggi' magazine. 29 December 1997.