1992-2003 Ferrari 456 (later 456M ) by Pietro Camardella and Lorenzo Ramaciotti at Pininfarina.
Chassis tipo F116CL and F116CLA; engine tipo F116B and F116C.
GT: 1,548 (141 RHD)
GTA: 403 (61 RHD; from 1996)
M GT: 688 (31 RHD to 2002)
M GTA: 650 (136 RHD to 2002)
Total 3,289 built
Chassis sequence: 96157 to 111376.
109589-
Engines 456 GT/A 456M GT/A Bicolore Scaglietti Venice Convertible Straman
Brochures Colour Codes Interiors
Chassis/body Luggage set Tool kit Wheels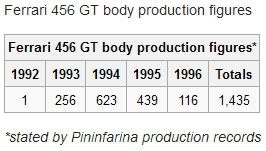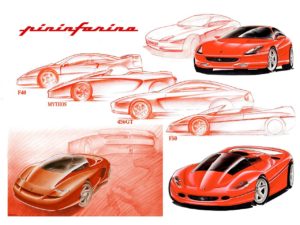 Timeline:
1989
Design prototype by Pietro Camardella at Pininfarina.
1992
Body production starts at Pininfarina.
Launch 24/Sep/1992 at Brussels.
Engine type F116B (Motronic M2.7).
1995
Airbags are introduced as an option and for some markets (US). Driver's airbagged steering wheel is 4-spoke.
1996
GTA is introduced (chassis F116CLA) Mar/1996 at Geneva.
Engine type F116C (Motronic M5.2).
Drawings of Modificata from Ken Okuyama dated '96.
Body production transferred from Pininfarina to Ferrari (Scaglietti).
Venice cars are made for Sultan of Brunei. 7 sedans, 4 spiders and 6 estates.
Various body types remade by Straman.
1998
Modificata is introduced 3/Mar/1998 at Geneva.
Externally the front and rear bumpers are changed along with fixed rear lower spoiler and new bonnet without air scoops. Pininfarina badges are now script 'disegno Pininfarina' only. Probably exterior redesigned by Ken Okuyama.
Interior is changed with round vents instead of rectangle ones and fewer dashboard dials. Redesigned centre console. Different door inserts and seats.
Engine type F116C with changed firing order. ASR is introduced. Airbags are standard along with 3-spoke steering wheel.
2002
Bicolore Scaglietti introduced Paris 2002. In total less then 20 will be made.
2003
Production ends. Successor (612 Scaglietti) presented next year.
Engines:
V12 65° – 5473,91cm3
Bore: 88mm, stroke: 75mm
Power: 325kW, 442CV at 6,200rpm
Torque: 540Nm at 4,500rpm
Dry sump, 4 ohc, 4-valves per cylinder
1992-1996: F116B (Motronic M2.7)
Firing order: 1-12-5-8-3-10-6-7-2-11-4-9
1996-1998: F116C (Motronic M5.2)
Firing order: 1-12-5-8-3-10-6-7-2-11-4-9
1998-2003: F116C (Motronic M5.2)
Firing order: 1-7-5-11-3-9-6-12-2-8-4-10
Gearbox:
6-speed manual or 4-speed automatic, transaxle. Single plate clutch (or torque converter).
2002-2003 Scaglietti Program; Bicolore Scaglietti; 'Schumacher Edition':
#128776 https://www.ferraridatabase.com/The_Cars/2002/456M%20GT/2/456M%20GT%202%202002.htm
Paris 2002 Black/dark grey, red interior
#129892 https://www.classicdriver.com/en/uk/find/4100_results.asp?dealerid=115&lCarID=1772577
ZFFWL44A730132383
Grigio Nuvolari (body) & Canna di Fucile (roof color)
#132385 https://sanfranciscosportscars.com/2003-ferrari-456m-gt-schumacher/
Grigio Nuvolari (body) & Canna di Fucile (roof color)
1996 Venice: 7 Sedans, 4 Convertibles and 6 Estates; for Sultan of Brunei.
ZFFSP44C000103190 456 GT Green Venice Estate

456 GT Convertible conversion by Straman. 3 made + 1 targa.
100281 convertible blue
100890 convertible blue
ZFFSP44A7S0101250 convertible monza red https://ferraris-online.com/pages/carintro.php?reqcardir=FE-456CAB-101250
106021 targa grigio alloy, 2 seater, for Shaq O'Neal
List of Ferraris 456 GT owned by Sultan of Brunei, 73 in total! (inc. 11 GTA):
456 GT ZFFSD44C000098054
456 GT ZFFSD44C000098935
456 GT ZFFSD44C000098946
456 GT ZFFSP44C000098947
456 GT ZFFSD44C000098958
456 GT ZFFSD44C000098970
456 GT ZFFSD44C000099844
456 GT ZFFSD44C000099869
456 GT ZFFSD448000099918
456 GT ZFFSD44C000099970
456 GT ZFFSD44C000099972
456 GT ZFFSD44C000100012
456 GT ZFFSD44B000100034
456 GT ZFFSD44C000100213
456 GT ZFFSD44B000100685
456 GT ZFFSD44C000100878
456 GT ZFFSD44C000101074
456 GT ZFFSD44B000101316
456 GT ZFFSD44B000101381
456 GT                        101385
456 GT ZFFSO44C000101396
456 GT ZFFSD45C000101408
456 GT ZFFSD44C000101409
456 GT ZFFSD44C000101565
456 GT ZFFSD44C000101744
456 GT ZFFSD44C000101770
456 GT ZFFSD44C000101810
456 GT ZFFSD44C000101888
456 GT ZFFSD44C000101914
456 GT ZFFSD44C000102069
456 GT ZFFSD44C000102199
456 GT ZFFSD44C000102758
456 GT ZFFSD44C000102771
456 GT ZFFSP44C000102946
456 GT ZFFSP44C000103162
456 GT ZFFSP44C000103190 Green Venice Estate
456 GT ZFFSP44C000103219
456 GT ZFFSP44C000103261
456 GT ZFFSP44C000103292
456 GT ZFFSP44C000103368
456 GT ZFFSP44C000103380
456 GT ZFFSP44C000103662
456 GT ZFFSP44C000103996
456 GT ZFFSP44C000104023
456 GT ZFFSP44C000104368
456 GT                     104397
456 GT ZFFWP44C000104584
456 GT ZFFWP44C000104612
456 GT ZFFWP44C000104626
456 GT ZFFWP44C000104723
456 GT ZFFWP44C000104777
456 GT ZFFWP44C000104833
456 GT ZFFWP44C000105382
456 GT ZFFWP44C000105425
456 GT ZFFWP44C000105543
456 GT ZFFWP44C000105599
456 GT ZFFWP50C000105701
456 GTA ZFFWP50C000105838
456 GT ZFFWP50C000105867
456 GTA ZFFWP50C000105942
456 GTA ZFFWP50C000106001
456 GTA ZFFWP50C000106046
456 GT ZFFWP50C00010620X
456 GTA                       106332
456 GTA ZFFWP50A8V0106345
456 GTA ZFFWP50C000106714
456 GTA ZFFWP50C000106728
456 GTA ZFFWP50C000106742
456 GTA ZFFWP50C000107229
456 GT                      107489
456 GT ZFFWP44C000107636
456 GT ZFFWP44C000107639
456 GTA ZFFWP50C000109951
Colour codes
100 Bianco Avus.

101/C Argento Nurburgring Met.



102 Giallo Modena.

1240 Nero Tropicale.

1250 Nero D.S.


300/12 Rosso Corsa.

302/C Rosso Rubino.

311/C Rosso Monza Met.


312 Rosso Barchetta.


320 Rosso Barchetta.

321 Rosso Fiorano Mic.

3238 Grigio Titanio Met.

3673 Verde Silverstone Met.

503/C Blu Sebring Met.

513/C Blu Swaters Met.

514/C Blu Medio Met.

515/C Azzurro Monaco Met.


516/C Blu Scuro 'Le Mans' Mic.


517/C Azzurro Hyperion Met.


521 Blu Pozzi

522 Blu Tour de France Met.


523 Blu NART Met.

524 Azzurro California Met.

606 Verde Inglese

607 Verde Silverstone Met.


608 Verde Mugello Met.

610 Verde Zeltweg Met.

703/C Canna di Fucile Met.
456 GT 1994.

720 Grigio Ingrid Met.
456M GT 1998.

740 Grigio Silverstone.

750 Grigio Alloy Met.
2000-2002.


901/C Nero Carbonio.

905 Bianco Polo

906/C Nero Met.

910 Nero Daytona Met.
456M GT 2000, 456M GT 2001.


Interiors
Connolly leather.
White/Black
Light grey/Black
Light grey/Black
Light grey/Black
Dark grey
Dark grey/Black
Light beige/Black
Light beige/Black
Beige/Black
Tan
Tan/Black
Tan/Black
Tan/Black
Dark tan
Dark tan/Black
Red
Red
Red/Black
Red/Black
Red/Black
Red/Tan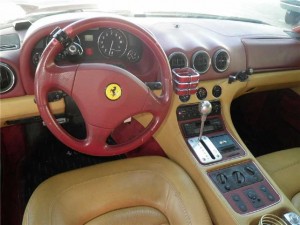 Green/Black
Dark green
Blue
Blue
Blue/Black
Blue/Black
Black
Black
Black
Black
Chassis/body
Bonnet made in carbon fibre. Also font and rear gravel guards, front wheel outer panels and rear air inlets.
Doors made in steel as well as panels welded to tubular chassis. Steel panels include: flatbed, roof panel, rear plane, front flame protection and pillars.
Body panels made in aluminium. Also front and rear underbody as well as rear wing inner panels and other parts forming the engine bay and the luggage compartment.
Modificata: The underbody is plastic reinforced by fiberglass and polyurethane. The front wheelhousings are in glass-reinforced polyester, the rear wheelhousings and gravel guards are in aluminium, while the front gravel guards are in polyethylene and polypropylene.
Luggage set
On demand, by Schedoni:
GT: Medium suitcase, large suitcase, vanity-case, garment cover.
GTA: Medium suitcase, large suitcase, vanity-case.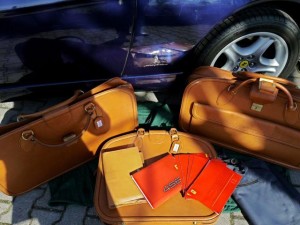 Tool kit
In Schedoni leather. 3 trays.
1992-1998
-puncture repair bottle
-water pump, alternator and steering control belt
-6-22mm flat spanners
-190mm universal pliers
-screwdriver for cheese-headed screws 4x100mm
-screwdriver for cheese-headed screws 7x120mm
-screwdriver for cross-pointed screws 4x100mm
-screwdriver for cross-pointed screws 6x120mm
-spark plug spanner, complete with ratchet wrench
-tow eyebolt
-spare bulbs and fuses
From 1998
-water pump and hydraulic power steering control belt
-alternator and compressor control belt
-set of flat spanners
-insulated universal pliers
-screwdriver for cheese-headed screws
-screwdriver for cross headed screws
-tow eye-bolt
-set of spare bulbs and fuses
Wheels and tyres
Front: 8,5″ J x 17″ 255/45 ZR 17
Rear: 10″ J x 17″ 285/40 ZR 17
Space saver spare wheel does not fit under the boot floor on GTA as there is a service panel for automatic transmission maintenance.
Known chassis numbers:
ZFFSD44B000099227 https://www.bonhams.com/auctions/21901/lot/45/
ZFFSP44A2S0101592 https://www.rmauctions.com/lots/lot.cfm?lot_id=13155
ZFFSD44S000100543 https://www.rmauctions.com/lots/lot.cfm?lot_id=1068828
Modificata
ZFFWP44B000113244 https://www.rmauctions.com/lots/lot.cfm?lot_id=1060571