Alfa Romeo GTV and Spider Timeline

1981 1986 1987 1988
1990 1991 1993 1994 1995 1996 1997 1998
2000 2001 2002 2003 2004 2005 2006
Overview
The Alfa Romeo GTV (Gran Turismo Veloce) and Alfa Romeo Spider were two sports cars produced by the Italian manufacturer Alfa Romeo from 1995 to 2006. Known by the internal Alfa Romeo designation 916. The GTV is a 2+2 coupé, and the Spider is a two-seater cabriolet version of the GTV.
The GTV was initially offered with 2.0 TS and 2.0 V6 Turbo, while Spider with 2.0 TS and 3.0 V6 12V.
The Spider and GTV were based on the then-current Fiat Group platform, called Tipo Due (or Type 2), in this case a heavily modified version with an all new multilink rear suspension. At its launch, many journalists commented that Alfa had improved overall build quality considerably and that it came very close to equalling its German rivals.
History
1981
At 1981 Geneva Motor Show Audi presents Quartz Concept, based on Audi Quattro mechanicals. Design was carried out by Pininfarinas' Enrico Fumia by 1980.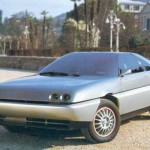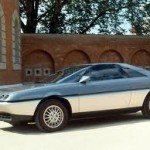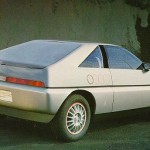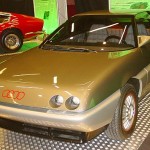 1986
Alfa Romeo is sold to Fiat. New owner wants to reestablish a sporty-coupe image of Alfa Romeo. Project 916 starts. Fiat commissioned proposals for GTV/Spider at least to Pininfarina and Bertone, and aparently the Pininfarina was chosen. At that time Fiat Auto CEO is Vittorio Ghidella.
Finmeccanica sold Alfa Romeo to the FIAT, which merged it with Lancia to form a new group known as 'Alfa-Lancia S.p.A.', which started trading in 1987. The same year, the Style Centre was moved to the Arese industrial complex, managed by Walter de' Silva. The Arese designers were responsible for creating the 145, prototypes such as the Proteo and Nuvola, the 156, the 147 and the MiTo. (Alfa Romeo.com)
In 1986, a new Pininfarina plant in San Giorgio Canavese – near Turin – started operating.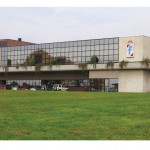 Vivace concepts, designed by Diego Ottina for 1986 Torino Motor Show, meant as a sneak preview of forthcoming 916 range. Styling was deliberately simillar to that of Alfa 164, styled in 1982.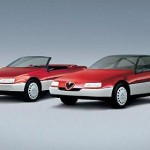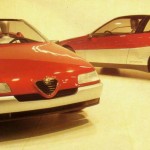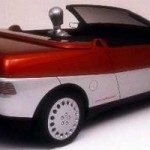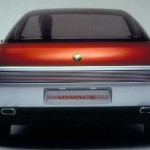 1987
September
Enrico Fumia finishes initial renderings in September.
Alfa Romeo [Alfetta] GTV 2.0 and 2.5 is stopped in production as it was not further restyled. There were propositions for one more restyle, but it never entered production.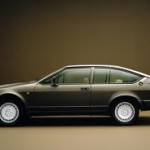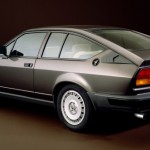 Overall Alfetta-based GTV was produced in 137,579 units
1988
July
Complete design drawings in July, accepted by Vittorio Ghidella (Fiat CEO) and 1:1 scale model same year.
Vittorio Ghidella left Fiat in November 1988, he will be replaced by Cesare Romiti.
This year the Fiat Tipo Due platform enters production in Fiat Tipo.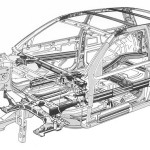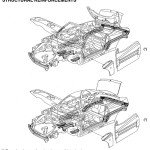 1990
Although Project 916 was well underway Alfa Romeo decided to restyle the existing 105-series Spider for the forth and last time.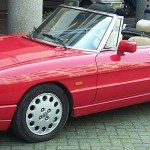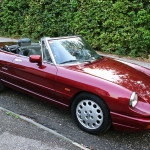 4th series Spider was produced in 21,407 units (2,951 1.6 included). Overall 105-series Giulia Spider was produced in 124,104 units.
Paolo Cantarella is appointed Fiat Auto CEO
1991
Paolo Cantarella, took over the project and announced "no compromise" approach. Rumored he test drove the prototype and commissioned the more sophisticated rear suspension to be made. Chief engineer at that time was Bruno Cena.
Proteo concept car, designed by Alberto Bertelli at Centro Stile Alfa Romeo under Walter de Silva for 1991 Geneva Motor Show, shared many cues inspired by then-ready GTV/Spider design. It was based on Alfa 164 Q4 mechanicals and featured a 24-valve V6 Busso engine.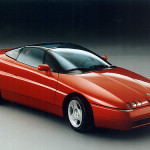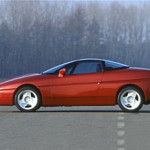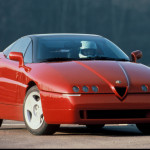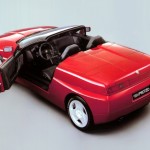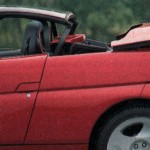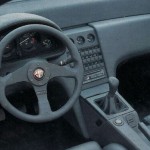 1993
Production of the 105-series Spider is finally over after 27 years and 4-series. 1.6 was phased out previous year.
November
Production began in late 1993 with four cars, all 3.0 V6 Spiders, assembled at Alfa Romeo Arese Plant in Milan. Cars will have 'FIAT AUTO S.P.A.' on VIN tags. Spider V6 models do not have additional side intakes on the bumper's lower strip.
1994
May
In early 1994 the first GTV was produced, with 2.0 Twin Spark engine. First premiere was held at Paris Motor Show in Fall 1994.
The two cars introduced at the 1994 Paris Motor Show were part of a design developed in two parallel and different directions with the aim of producing two different models: a coupé (GTV) and an open-topped car (Spider). The Alfa GTV unleashed an aggressive elegance equal to the best Brand traditions. The Spider revealed some evident retro hints, such as its sloping tail: a note to the legendary cuttlefish-shaped Duetto. (Alfa Romeo.com)
1995
March
GTV and Spider were launched at the Geneva Motor Show in March 1995 and sale began the same year. Cars produced 1993-mid 1996 are M.Y. 1995.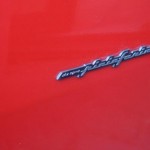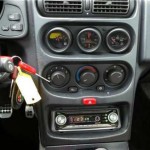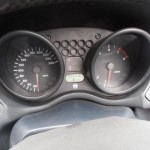 1996
MOMO Leather is introduced as an option with a Lusso trim. It was available even before Phase 1b.
From this year 916s are officially imported to UK and available with RHD, except for 2.0 V6 TB.
Paolo Cantarella, is appointed Fiat Group CEO, replacing Cesare Romiti in February.
In 1996 a new engine 3.0 V6 24V was available for the GTV along with bigger, 305 mm (12.0 in) brakes and red, 4-pot calipers from Brembo. The central console knobs were changed from round to rectangle ones, also introduced new 3-spoke steering wheel (except for RHD cars). Some versions were upgraded with different front bumper mesh to bring the wind noise down to 74 dBA. Cars produced in mid 1996-1997 are M.Y. 1997 (Phase 1b).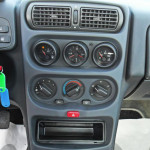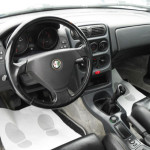 July
First produced 3.0 V6 24V GTV.
1997
October
32nd Tokyo Motor Show. GTV 3.0 and Spider Twin Spark presented.
1998
May
In May 1998 the cars were revamped for the first time (Phase 2), mainly the interior was changed with new centre console, painted letters on skirt seals, changed controls and switches arrangement and different instrument cluster with 'chrome' tubes. On the exterior main changes included chrome frame around the grille and color coded side skirts and bumpers. A new engine was introduced: 144 PS (106 kW; 142 hp) 1.8 Twin Spark, and some were changed: 2.0 Twin Spark gets Modular Intake Manifold with different length intake and different plastic cover. Power output of 2.0 TS was raised to 155 PS (114 kW; 153 hp). Engines changed engine management units and have a nomenclature of CF2. Dashboard was available in 2 new colours, in addition to the standard black: Red Style and Blue Style, and with it new colour coded upholstery and carpets. 3.0 24V got 6-speed manual gearbox as an option. The 2.0 V6 TB engine was now available for the Spider. Cars produced in 1998-2000 are M.Y. 1998. From this phase every V6 car will have additional intake on the bumper's lower strip. Alfa Romeo is relaunched in Australia due to Spider.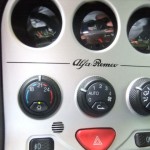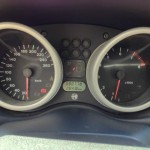 October
The new RHD Alfa GTV mode its debut in the Japanese market in October, 1998.
December
The new RHD Alfa Spider was introduced in Japan in December, 1998.
1999
October
33rd Tokyo Motor Show. GTV 3.0 and Spider Twin Spark presented. Powered by an alminum 3.0-liter V6 engine with 24 valves. Sporty response and smooth acceleration/deceleration ensured by an electronically-controlled throttle system. 2958cc, 220ps/6300rpm, 27.5kg-m/5000rpm,6MT. The sport roadster model epitomizes the 'Sporting Spirit' of the brand through the use of; sophisticated exterior design, MOMO leather upholstery and the Variable Geometry Intake System which is also used for the Alfa 145 and 156. In-line 4-cylinder DOHC 16V, 1969cc,155ps/6400rpm, 19.1kg-m/3500rpm.
2000
July
Last cars produced at Arese plant by the end of July. Up to this point the disegno pininfarina badges were small and plastic without the crowned-F emblems.
October
Arese Plant was closing and, in October 2000, the production of GTV/Spider was transferred to Pininfarina Plant in San Giorgio Canavese in Turin. GTV/Spider were the last Alfa Romeos made at Arese plant. In late 2000 saw the revamp of engines to comply with new emission regulations Euro3, with first compliant cars made in November 2000. New engines were slightly detuned, and have a new identification code CF3. 3.0 V6 12V was discontinued for the Spider and replaced with 24V Euro3 version from the GTV. 2.0 V6 Turbo and 1.8 T.Spark were discontinued as they did not comply with Euro3 emissions. From this point the pininfarina badges were metal and with crowned-f emblems.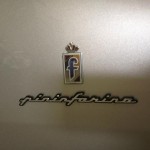 In 2000 Leonardo Fioravanti created Vola concept, based on Spider 3.0 V6 chassis and engine. It was later repainted/reupholstered in 2005 and remodelled in 2008.
2001
For M.Y. 2001 only 2 engines are left, 2.0 T.Spark and 3.0 V6 24V, until Phase 3 engine range arrives. In 2001 were introduced 5 limited editions: 2 Spider Elegants and 3 GTV (Elegant, Cup and Edizione Sportiva). This usually means falling sales and means of market recovery. Cars produced in 2001-mid 2003 are M.Y. 2001. Around 22% of 2001 production were limited editions. Limited editions have black dials surrounds with chrome inner circles.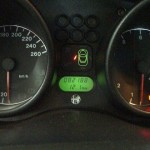 Alfa Romeo/Fioravanti Vola presented in 2001 is based on 916 Spider chassis with 3.0 V6 12v engine and retained it's wheelbase.
71st Salon de l'Auto, Geneva 2001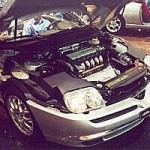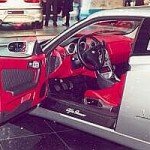 2002
2002 sees the introduction of many limited editions. Lux, Motus, Edizione Elegante and Edizione Sportiva Spider. As much as 40% of 2002 production were limited editions. Around 7% of Limited Editions 2002 were produced in early 2003.
In June 2002, Gabriele Galateri di Genola, was appointed CEO of Fiat, after Mr. Cantarella's resignation.
In July, first Phase 3 cars are produced.
In December 2002, newly appointed Fiat CEO is Alessandro Barberis.
2002 Paris Motorshow (Mondial de l'Automobile)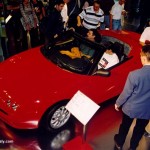 Future GTV replacement, Brera, is shown as a concept at 2002 Geneva Motor Show.
2003
February
From February 2003, new Fiat CEO is Giuseppe Morchio. He came to the company at a time when it was extremely unprofitable, having faced a loss of 4.3 billion euros in 2002.
April
In 2003 arrived a new and last revamp (Phase 3), also designed in Pininfarina but this time not by Enrico Fumia. Main changes are focused on the front with new 147-style grille and different front bumpers with offset numberplate holder. Change in interior was minimal with different centre console and upholstery pattern and colours available. Instrument illumination colour was changed from green to red. Main specification change is an ASR traction control, not available for 2.0 TS Base model. New engines were introduced: 165 PS (121 kW; 163 hp) 2.0 JTS with direct petrol injection and 240 PS (177 kW; 237 hp) 3.2 V6 24V allowing 255 km/h (158 mph) top speed. This phase debuted at March 2003 Geneva Motor Show before a European launch in May 2003. Cars produced in mid 2003-2004 are M.Y. 2003. Up to this point both GTV and Spider had very simillar kerb weights, but from 2003 Spider is considerably heavier, by 25-35kg. Also seats position in relation to the ground is lower. By the end of the April last Phase 2 cars were produced.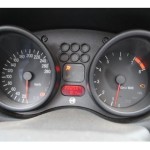 60th Frankfurt IAA, September 2003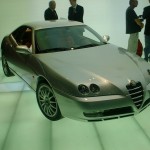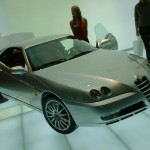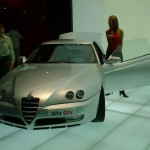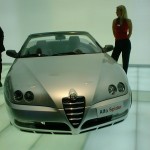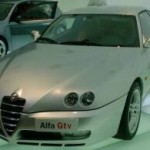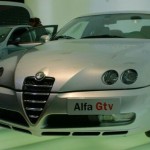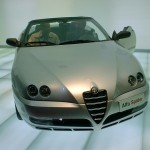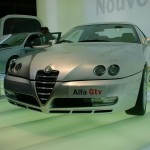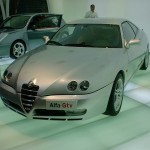 Thailand International Motor Expo 2003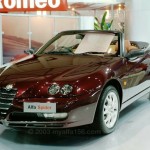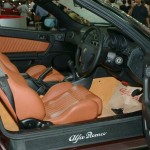 37th Tokyo Motor Show, November 2003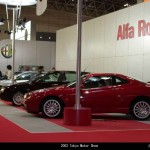 76th Paris Mondial de l'Automobile 2003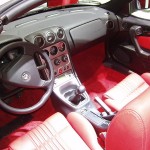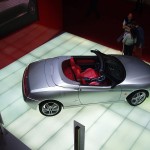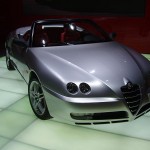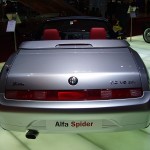 Geneva Motor Show 2003 sees the premiere of new coupé based on 147, the GT, with first examples produced by the end of the year.
Sportiness combined with comfort and elegance. The Alfa GT is surprising coupé-saloon, designed by Bertone with the Centro Stile of Arese. The car was based on sporting tradition, powerful power-units with engines that topped every category and a combination of good looks, comfort and elegant shapes. Formula 1-derived solutions also added maximum control for full appreciation of the thrill of a sparkling drive. For uncompromising driving satisfaction. (Alfa Romeo.com)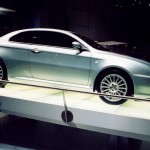 2004
In early 2004 were introduced few limited editions all Edizione 2004 Spider based on 2.0 JTS Medio. More than 31% of 2004 production were limited editions, despite it didn't bring the sales and production was ceased by the end of the year. Sales of Alfa GT began same year. In June 2004 Sergio Marchionne is the new Fiat CEO, he succeded Giuseppe Morchio.
December
By the end of 2004 production was ended at Pininfarina San Giorgio Canavese plant. Some cars were still available for purchase till 2006.
Paris Motorshow 2004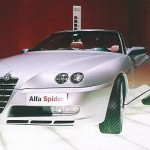 2005
GTV sales are ceased and is replaced by 159-based Brera. Production of Brera starts at Pininfarina plant at the end of the year.
The new benchmark in the coupé world. Strong and compact, able to master the road with its strong personality. Its shape is a succession of classic Alfa hallmarks reinterpreted for a modern audience and powerful, flexible power units – two turbo diesel and two petrol – are its strength. The interior are typical of a deluxe saloon and insure superlative comfort, practicality and attention to detail for driving satisfaction. A coupé born to thrill. (Alfa Romeo.com)
Geneva Motor Show 2005
2006
Spider sales are ceased, as the model is replaced by Brera-based Spider. Production of 939 Spider began in mid 2006.
The sporty convertible legend lives on. The Alfa Spider made its debut in 2006 at the Geneva International motor show. The most attractive result of the new generation of Alfa Romeos: created by Centro Stile with Giugiaro and Pininfarina, this quintessentially Italian car was made to be enjoyed, providing sheer power and great handling. The Alfa Spider this is all about simple, essential style, the performance of a cutting-edge sports car and top-level engineering. The return of a legend. (Alfa Romeo.com)