Alfa Romeo GTV and Spider Technical Specification

Platform
GTV and Spider utilises highly modified 'Fiat Type Two' (Tipo Due) platform. Other cars made on this platform: Alfa Romeo 145, Alfa Romeo 146, Lancia Delta, Fiat Tipo, Fiat Coupé. Type Two differed from Type Three in that it lacked the possibility to mount an all-wheel drive system.
The fuel tank has a capacity of 70 litres (18 US gal; 15 imp gal). The battery, CD autochanger are located in the boot, and the fuel tank is ahead of the rear axle line, behind the rear seats for increased safety. The power assisted steering has a very high ratio, giving 2.2 turns lock-to-lock. The bonnet and bootlid are supported on nitrogen filled struts. A spacesaver spare wheel was supplied, and there was a no-cost option of an aerosol can of tyre repair sealant. This was a factory standard from 1998 as it increased the usable size of the very small boot to 155 litres (5.5 cu ft).
As would be expected, the GTV has a much more rigid chassis, up to 64% stiffer compared to Spider, although considerable work was done on the Spider to reduce the traditional convertible problem of scuttle shake.
Weight distribution for four cylinder engined car is 61% front/39% rear and for a V6 is 63% front/37% rear.
Chassis torsional rigidity (for 1996 car) GTV: 110,000 kg/rad, Spider: 40,000 kg/rad.
Wheels are 15 inch perforated steel as standard, 16 inch teardrop alloy wheels with 205/50 tyres were part of the Lusso option package. From Phase 2 and 3 16 inch teardrop alloy wheels became standard with factory option of 17 inch alloy wheels and 225/45 tyres.
2.0 V6 TB models have windscreen fluid reservoir in the boot, whereas the rest have them under the bonnet.
Criticisms of the model have been that it is hard to park due to its large turning circle and low seating position, which mean that the end of the bonnet and corners are outside the driver's line of sight. The doors are very long and need plenty of space in a car park.

Turning circle:


Hard Top
From 2000, a resin glass hard top was available for the Spider. The top is fitted with a glass heater rear windscreen which can be connected to a special socket on the left side panel of the vehicle. The top is fitted on the vehicle with the top folded in its housing and the hood cover closed. When the hard top is fitted, the operation of the electric hood opening and closing switch is inhibited.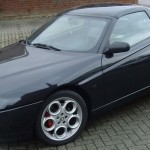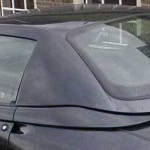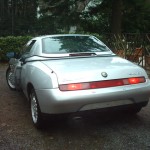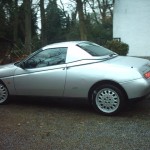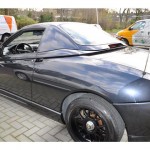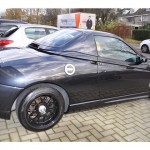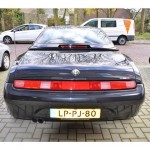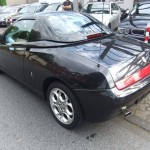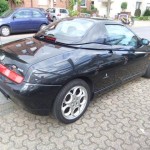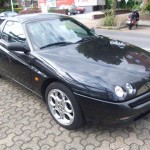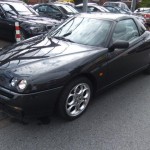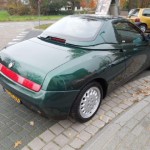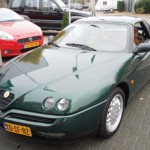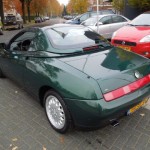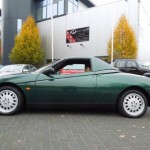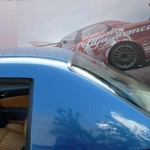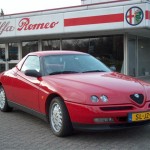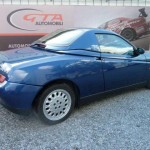 Structural reinforcements
Spider has reinforcements in the windscreen pillars to make them undeformable if the car overturns and the partition behind the seats stiffens the part of the body.
From the begining cars had 2 anti-intrusion bars inside the doors, while from 1998 there is only one anti-intrusion bar.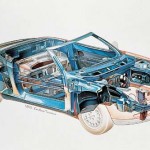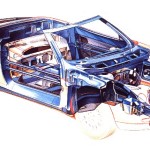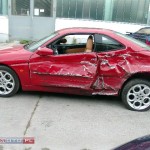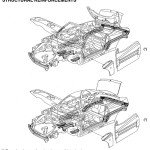 Battery
GTV. Battery is located in the boot, behind right-hand compartment panel.
Spider. Battery is located in the inside battery compartment, behind the seats.
Lighting
Low beam 55W(or 60W) HB3/9005 (HB4/9006 on some early cars)
High beam 55W(or 60W) HB3/9005
Front direction indicator 21W P21W 581
Front sidelight 5W W5W 501
Foglamp 55W H3
Side direction indicator repeater 5W W5W 501
Rear direction indicator 21W P21W 380
Rear stop/side lights 21W/5W CP21W/R5W 380
Reversing light 5W(or 21W) P21W 382
Rear fog guard 21W P21W 382
Third stop – Spider 2.1W
Third stop – GTV 5W W5W 501
Horns
Phase 1 cars have one cylindrical horn, mounted underneeth the light cluster. Phase 2 cars have twin spiral horns mounted centrally. Phase 2 horns are tone-adjustable.
Brakes
Cars have disc brakes all round, while most versions had 284 mm (11.2 in) Lucas or ATE system ventilated-discs at the front, some Spiders (1.8 TS and 2.0 TS) had 257 mm (10.1 in) Altecna-system. 3.0 V6 24V GTV and Spider had 305 mm (12.0 in) Brembo-system ventilated-discs with 4-pot calipers painted red with white 'Alfa Romeo" lettering. All cars had 240 mm (9.4 in) Lucas-system solid-discs at the back.
Total front lining area (284 mm brakes) 200cm²
Total rear lining area (240 mm brakes) 84cm²
Gearbox and Clutch
5 and 6 speed manual gearboxes were in use. Clutch is a pull-type.
Parts Bin
Which parts are shared with other Alfa Romeo (or Fiat) cars.
Inside door handles came from Alfa 164.
Inside door opening handles came from Alfa 155.
GTV/Spider Euro 3 noise levels
Model

drive
[dB(A)]

stationary
[dB(A)]

engine revs
rpm

3.0 V6 24V
218 PS

71

81

4725

2.0 TS
150 PS

71,5

79

4725