Alfa Romeo GTV and Spider External Colour Codes

Paint code sticker example: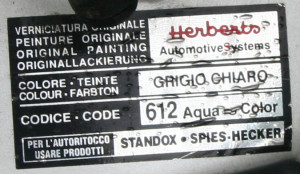 1. Paint manufacturer
2. Colour name
3. Colour code
4. Code for retouches and painting
Location: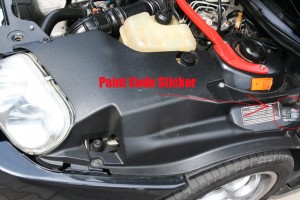 Complete list of available colours 1993/1994-2004:
117/B Rosso Brunello Met.
130 Rosso Alfa
146 Bordeaux Met.
167/A Rosso Miro Pearl.
195/A Rosso Proteo Met.
201/A Bianco Polare
210 Bianco Freddo
249 Bianco Banchisa
254/A Blu Reims Met.
258/A Giallo Ginestra
302/A Verde Acido Met.
309/A Verde Tropico Met.
310/A Verde Bosco Met.
341/A Verde Oasi Pearl.
353/A Verde Sargassi Met.
361/A Verde Coventry Met.
400/B Blu Vela Met.
401/B Blu Victoria Met.
414/B Azzurro Nuvola Pearl.
427/B Blu Lightning Met.
473/A Blu Atollo Met.
513 Giallo Zoe Met.
601 Nero
612/A Grigio Chiaro Met.
613/A Grigio Titanio Met.
632 Nero Met.
659/A Grigio Eclisse Met.
677/A Grigio Meteora Met.
709/A Verde Racing Met.
719/A Blu Cobalto Met.

Colour ranges by phase:
(S) – Spider only, (G) – GTV only
Phase 1a
U8 | GTV '95 (1995-1997)
U7 | NUOVO SPIDER '95 (1995-1997)
249 Bianco Freddo was present in early 1996
Phase 1b
U8 | GTV '97 (1997-1998)
U7 | NUOVO SPIDER '97 (1997-1998)
Phase 2a
W0 | GTV '98 (1998-2001)
U9 | SPIDER '98 (1998-2001)
Phase 2b
W0 | GTV '01 (2001-2003)
U9 | SPIDER '01 (2001-2003)
Blu Vela replaced by Blu Lightning in mid-phase.
Phase 3
W0 | GTV '03 (2003-2004)
U9 | SPIDER '03 (2003-2004)
New possible colours:
114/A Aurora Nuvola Pearl. (Spider 1998-2001)
378/A Verde Oro (Met./Pearl.) (Spider 2000-2001)
684/A Grigio Geo/Dolceaqua Met. (GTV 2003-)
710/A Beige Volterra Met. (GTV 2005)